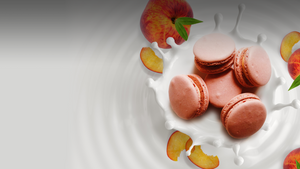 What Makes
Our Macarons
So Special?
The Shells
Macarons traditionally were two meringue shells made with almond flour, egg and sugar. The shells themselves did not change in taste from one flavor to the next. The flavor came only from the different fillings. Macaron Queen macaron shells have individual flavor. From our Pistachio that has real pistachio to chocolate which has real cacao powder our macarons taste different from the first bite its not just food color.
The Fillings
Macaron Queen fillings are different in texture but also to give a difference in the macaron texture itself. Macaron Queen improvised and created different textures so there is something for everyone's taste.
Enjoy the crunch and the chewy? You will favor our buttercream fillings that leave the shells texture intact and cookie-like. Want more of a melt in your mouth sensation our Red Velvet and Princess cake and many cheesecake flavors will have the signature macaron crunch but more like a brownie and then it just melts.
Love And Care
Adding anything to the macaron shell can throw off the recipe. Whether it's another ingredient like nuts or cocoa or adding a topping. When done incorrectly the shell will cave in or crack like a souffle. That's why it's truly an artform to perfect and evolve.
We have spent years perfecting unique recipes that are labelled by foodies as the best. 
How Are Our Macarons Guilt-Free?
A Low Calorie Option
Macaron Queen specially designed her recipes to use less sugar. With only 7-9 grams of sugar per each macaron depending on flavor. Low in Sodium than most treats and only 2-3 grams of fat per serving.
We use 100% Almond Flour
Almond flour is both wheat-free and gluten free making it a great alternative for those who cannot tolerate wheat or gluten. Almond flour also contains more protein than wheat flour and is rich in healthy fats.
Gluten-Free
Our macarons are 100% gluten-free and safe for those with celiac disease. As one of America's largest producers, our macarons are made without GMO, fillers, Soy or Rice.